Enterprise Social Intelligence
Platform
DATACTIF®Social Network Analyzer is an Enterprise Social Intelligence Platform based on artificial intelligence and part of the DATACTIF Suite of Big Data Analytics series. Combining Social Networks Analysis and Text Mining, DATACTIF®SoNetA offers each enterprise the possibility to increase profitability by applying state of the art :
Market Research. Identify trends and behaviors as they appear, in order to unlock new business opportunities.
Brand Management. Measure sentiment and reputation to know how consumers and prospects perceive a brand, for building a successful brand strategy.
Audience Segmentation. Discover every high potential segment for a brand/product to build targeted campaigns and win new fans.
Product – Campaign Launch. Track consumer response to new campaigns and offerings to ensure positive feedback.
Crisis Management. Detect and manage crises before they escalate protecting this way brand reputation and loyalty.
Customer Management. Complete view of each customer by connecting social data to enterprise's operational systems.
COMMUNITIES' DETECTION
Social network analysis is the mapping and measuring of relationships and flows among people, groups, organizations, computers, URLs, and other connected information/knowledge entities.
The community value is incomparably more important than the score of any individual customer, no matter how good it may be. And this is because communities react randomly and chaotically and thus an event (purchase of a product, subscription to a new service, positive comment, complaint or churn) creates chain reactions with exponential effect.
Identify and understand communities help to test, predict and create efficient and cost effective business and communication strategy.
INFLUENCE ANALYSIS
Influencers identification is the number one objective in every social media as specific users exercise influence over an organization and its potential customers. Influencers are activists, well-connected, have impact, have active minds, and are trendsetters, though this set of attributes is aligned specifically to consumer markets.
Targeting influencers, is seen as a means of amplifying marketing messages in order to counteract the growing tendency of prospective customers to ignore traditional marketing efforts.
INFLUENCE ANALYSIS & RECOMMENDER SYSTEM for Santorini, a famous holidays destination. Visits to restaurants proposed by influencers through published photos
in FB & Instagram, have increased.
 SENTIMENT ANALYSIS
Sentiment Analysis using Natural Language Processing, retrieves user reviews and lists their comments in Positive, Negative or Neutral Probability. But more important is the further analysis and evaluation of reasons of positive, neutral and negative indicators. Using Term analysis and Fact extraction we can identify and understand the reasons (some times unknown to an enterprise) for clients' satisfaction and dissatisfaction.
Sentiment Analysis for an automotive company.
Sentiment Analysis and Promotional Campaigns evaluation for a supermarket chain.
CONCEPT EXTRACTION
Concept extraction identifies the emergent semantics that characterize the content of users communications. Concepts are extracted from available comments by employing supervised learning algorithms and natural language processing techniques.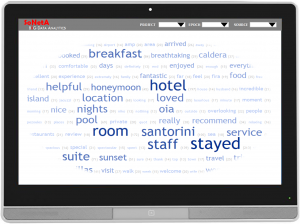 Luxury Hotel. Focusing on positive comments
we extracted the USP of the hotel which is "breathtaking view", "helpful staff",
"recommended hotel", "clean and comfortable room" , etc…
Automotive Company. Focusing on concept extraction we obtained meanings related to each model
but also meanings related with major industrial concepts like "hybrid"

POLARIZATION ANALYSIS
Polarization is the process by which a social group is divided into two opposing sub-groups that have conflicting and opposing positions, goals and opinions. The understanding of the polarization phenomenon creation (and what issues are the cause) is important because it is the key to opinion understanding. Besides, a holder of a biased opinion is likely to hold the same extreme view over time and in other issues.
A mobile telephony company published a POST with a promotional offer (free ticket for a Zoological Park).
The small but relatively compact group of animal lovers rose up, accusing the company of insensitivity towards the imprisoned animals.
The result of this promotional offer was a serious damage to company's image

BEHAVIORAL SEGMENTATION

Based on sentiment analysis, authority score and users attitude in a given forum, Audience Segmentation allows to discover groups (clusters) of users with common characteristics.  Social Media clusters are :
Superfans. Users with the highest activity and most positive attitude. Should leverage their enthusiasm to spread the news and talk about new products. They must always be kept informed and encouraged in their positive attitude.
Critical Thinkers. Users with values of Authority and of Hub (with a wider range of different users). They affect a sale even when they don't participate actively to a purchase process.
Neutral. These users need to be kept up to date in a non-intrusive way. This means that they should not be acknowledged directly, but they might be invited for example to special events for free. Neutral users are not always neutral; they just balance out over time. So if we can get them to be slightly more positive that can only help the business.
Inactive. They are mostly interested in the product than the brand. But there are a lot of users in this cluster that plan a future purchase, so they must be considered as prospects.
PSYCHOLOGICAL SEGMENTATION

The profile and the behavior of each member in a social network reflects the characteristics of his personality. Self description, Content, pictures, photos, comments, posts, etc… can be analyzed and lead to following clusters  : EXPÉRIENCERS  ≠  NEUROTICS (or low self-confidence)  ≠  CONSCIENTIOUS  ≠ OPEN MINDED  ≠ EXTRUDERS  ≠ NARCISISTS


ALERTS' MONITORING

Social Media Monitoring and Listening is essential in crisis prevention. DATACTIF® SoNetA collects online conversations based on user specified terms and provides contextual information through the analysis of those conversations. Using supervised machine learning methodology, it creates a self organizing dictionary of terms and phrases having similar meanings, optimizing this way task effectiveness.
Once those conversations collected, DATACTIF® SoNetA identifies the impact to a brand by measuring the propagation and the exposure of the community to these comments, the transformation of the general sentiment and the weight of advocates of the brand versus those who have a negative position (Polarization).  And all the above in two levels: Short term Impact (during the phase of the crisis) and Long Term Impact.
SOCIAL MEDIA PERFORMANCE
Social media performance audit having as objective to consolidate a clear view on ROI, uses social and digital data to report on performance for each enterprise, its competition and market in general, across 5 important KPIs:
Community
Engagement
Advocacy
Share of voice
Reach
Social Media Dashboards are designed ad hoc for each enterprise and can be modified following business needs and competition environment.
DATACTIF BIG DATA
DATACTIF® Suite of Big Data Analytics and DATACTIF® SoNetA, creates the bridge between transactional and Social Media data, offering  each enterprise state of science Real Big Data Analysis and through PLANNER e-CRM, a single customer view.